Wishing you the best this week as we approach the Holiday Season. It may be or not be your cup-of-tea but there should be some music somewhere that you can tune into that lets you live your life with a lot of success.
Here are 5 Walk Off The Earth YouTube Christmas Holiday Season Songs to Enjoy.
Enjoy the videos.  We will return with our regular blogs in 2017.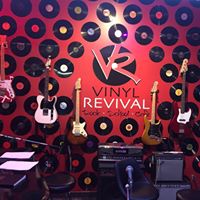 Looking for A Unique Christmas Event Experience
There is no need to be alone or have nothing to do this holiday season. One of my favorite places to hang out is at
Vinyl Revival
–
Cafe, Records and Rock School
.  Every Wednesday Darren Sawchuck, the owner, hosts an Open Mic Night with a lot of local talent performing.
Come out this Wednesday, December 21st for Open Mic Christmas Event. 
Wednesday, December 21st at 7 pm to 9 pm (ish)
Admission is Free. Well, maybe buy a coffee, tea or a treat.
I will be there celebrating a seasonal event. Be great if you joined me.
PS. If you don't go, at least put them on your Holiday List and go buy from them. Support a great local business that invests in the musical success of others.