SET Executive and Business Coaching
Most likely you started your business and career as a technical professional because you had a set of skills that were in demand. And let's face it, you could make a living doing something that you knew well. As you progressed, took on moved challenges and moved into business leadership, a senior professionals role or built your own business you discovered there were things you needed to address, to work on so you would achieve better set of results. Sometimes an event happens in your business and you get stuck, lose focus and you lack direction. Other times it's about building a new set of skills, new business brain power. Whatever the challenge, business coaching helps.
Everything starts with using a framework. Ours is based on the SET for Success and the SETability Business Canvas that allows you to define your needs and build a roadmap to take you to where you need to go.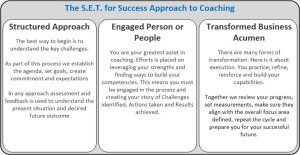 If you're a technical business leader, a professional or entrepreneur who needs one-on-one coaching to help you move beyond the obstacles in your path, and further excellence in your field, Richard Lannon will help. CLICK TO CONNECT FOR A SHORT CHAT ABOUT YOUR NEEDS
Benefits from Coaching
There are many benefits from coaching. They include:
better working relationships with direct reports (reported by 77% of executives)
improved relationships with immediate supervisors (71%)
enhanced teamwork (67%)
active working relationships with peers (63%)
improved job satisfaction (61%)
resolved conflicts reductions (52%)
enhanced organizational commitment (44%)
better external working relationships with clients (37%)
These results can also be found in the mid-level ranks or among self-employed entrepreneurs who need to move beyond in their business and capabilities.
An Opportunity for You
 I am interested in talking to you. If I can help, I will. All it takes is an email or quick phone call. CLICK TO CONTACT ME, RICHARD LANNON If you require any additional information or have questions, please connect 204-899-2808 or email to BraveWorld.