Expand Your Horizons through Professional Coaching
CLICK TO TELL ME IN WHAT WAY CAN I HELP YOU
S.E.T. for Success Coaching
Everything starts with using a framework. Ours is based on the SET for Success believe in taking a structured, engaging people and transforming the environment. It is the roadmap to all that we do.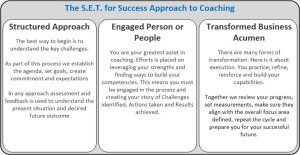 If you're a business leader and/or professional who desires one-on-one coaching for strategies to move beyond the obstacles in your path, and further excellence in your field, Richard Lannon will help. CLICK TO TELL ME IN WHAT WAY CAN I HELP YOU
Benefits from Coaching
There are many benefits from coaching. They include:
better working relationships with direct reports (reported by 77% of executives)
improved relationships with immediate supervisors (71%)
enhanced teamwork (67%)
active working relationships with peers (63%)
improved job satisfaction (61%)
resolved conflicts reductions (52%)
enhanced organizational commitment (44%)
better external working relationships with clients (37%)
These results can also be found in the mid-level ranks or among self-employed entrepreneurs who need to move beyond in their business and capabilities.
An Opportunity for You
The first step to getting a good coach is to find an individual to work with you. Whether you are a professional seeking to advance your business or career, a mid-range manager seeking to improve performance, or a business leader wanting to improve your company, the first step is to seek. If you're a business leader, entrepreneur and/or professional who desires one-on-one coaching to build skills, achieve growth, review and find strategies to move beyond the obstacles in your path and to develop further excellence in your field, I am interested in talking to you. All it takes is an email or quick phone call. CLICK TO CONTACT ME, RICHARD LANNON 
Contact Information
If you require any additional information or have questions, please connect 204-899-2808 or email to BraveWorld. OR CLICK TO CONTACT ME, RICHARD LANNON